Outreach Personal Stories
Here are some personal stories of the individuals who, through your generous donations, Outreach was able to help:
Chrysalis
Chrysalis is a nationally recognized program to help homeless people become job-ready and ultimately find and retain employment. A steady job is the single most important step in a person's transition to long-term self-sufficiency.
Curtis' Story
When Curtis Ross was released from prison and moved into a halfway house, he was overwhelmed by the idea of finding a job. Upon the advice of his parole officer, he enrolled at Chrysalis and began taking the required classes. "I met someone who got his Class A driver's license and was going to school for truck driving. I thought – I want to do that!" During his training for his class A license, he was put to work as a street sweeper in downtown Los Angeles. He moved out of the halfway house, and back to his hometown of Bakersfield where he landed a truck driving job with full benefits. "I didn't want a job, I wanted a career," Curtis said. "All it takes is doing what you're supposed to do."

Tiffany's Story
Before coming to Chrysalis, Tiffany's life was full of uncertainty and desperation. For fifteen years, she battled drug addiction and struggled to make ends meet. In 2009, she had achieved a lengthy sobriety. She also found out that she was pregnant. However, she found herself unable to find work, forced out of her apartment and abandoned by her family and the baby's father. Motivated by her newborn daughter, she was ready to turn it all around.
Once at Chrysalis, she began to utilize the many resources available to her—spending time in the computer lab, updating her resume and perfecting her cover letter. After two months of intense searching, she landed an interview at Nordstrom, where she was hired as a café barista. Tiffany was quickly promoted to a supervisory role. She managed to save enough money to move with her daughter into their own apartment. Clean and sober for four years, Tiffany is staying focused on what is best for her daughter.

Dianna's Story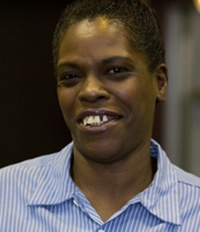 Like most people at Chrysalis, Dianna had a traumatic childhood and the suicide of her father led her down the dangerous path of drug addiction—which became the central battle in her life for nearly a decade. Although Dianna has been sober since 1989, she states that the urge to use again has been like "fighting a demon." In 2005, her life seemed like it was turning around. She was stable. She had a job. Returning home from work one afternoon, she saw that her home was engulfed in flames. She lost everything. She even lost herself for a time. Her cousin told her about Chrysalis. Dianna created her first email account in Chrysalis' computer class and refined her interview techniques by participating in practice interviews.
Through Chrysalis' transitional jobs program, Dianna was assigned to a position with the Old Bank District as a temporary maintenance worker. She worked diligently. She was punctual and professional and after months of showcasing her hard work, the Old Bank District removed the "temp" tag and hired Dianna full-time on February 6, 2011.Dianna now has her own apartment in North Hollywood and relishes her job and the colleagues she calls friends. "If I hadn't found Chrysalis, I'd probably be on Skid Row right now. I honestly don't think I would have made it. Chrysalis is more than a job opportunity, it's a family—they've been with me through thick and thin."


Hollygrove Children's Home/EMQ
Hollygrove Children's Home/EMQ is a child-centered, family-focused community organization serving abused and neglected children and those at risk of abuse. Based on a philosophy of character-building values, they help children and families to heal and develop emotionally, physically, intellectually and ethically. Their goal is for children to be part of safe, healthy and permanent families and to become contributing members of society.
According to the Children's Defense Fund, a child in California is abused or neglected every 4 minutes.
In Los Angeles County alone, 900,000 children live in poverty.
Of the 100,000 foster children in California, 35,000 are in LA County.
Public funding does not cover the complex needs of abused and at-risk children and families.
"It's extremely gratifying to find family for a kid who's had a difficult, in many cases hopeless, life," said Linda Librizzi, program coordinator for Family Finding. "But it's nothing compared to the joy we see in a child who finally feels 'at home' - possibly for the first time in her life."
Maricel's Story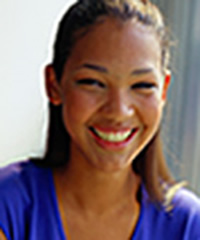 "Severe Neglect, Trauma Made Her Suicidal." No one but Maricel knows exactly what happened during the two years she lived abroad with her mother after her parents divorced. When she came back to the U.S., this little girl was deeply troubled. A spiraling series of events left Maricel's family overwhelmed and desperate for help: running away at age six, frequent anxiety and fearful crying at age seven, severe depression at age eight, her first attempt to hurt herself leading to hospitalization at age nine and additional suicide attempts and hospitalization stays after that. But now, at age 14, Maricel has a bright and promising future that includes college, a career as a teacher, and a loving, supportive relationship with her dad and other family members.
The dramatic turnaround started during sixth grade when, after an attempt to hang herself with a belt in the school restroom, Maricel was admitted into the residential treatment program run by EMQ FamiliesFirst. After a period of intense therapeutic services to get her stabilized, Maricel returned home and went back to school, but this time with the help of a skilled team from EMQ FamiliesFirst who worked closely with her within the public school environment. "Even at a very young age, children instinctively know that moms are supposed to love their children and want to protect them. If that doesn't happen, a child can feel at fault, unloved and unlovable. Maricel's journey was one of courage, bravery, learning and dedication. We are all so proud of what she has overcome to become a confident young woman with hopes and dreams."
Jewel's Story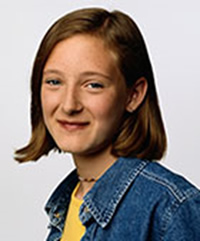 "I don't ever want to be back there." Jewel began using methamphetamine in sixth grade, and by the next year she was engaging in self-mutilation. Her parents took her to a children's psychiatric hospital, where she was diagnosed with depression. Jewel began running away. They took Jewel to a locked-down mental health facility in Nevada. "It was a huge decision to send her so far away. But we felt it was the only way to keep her safe." Jewel resisted fiercely, and underwent terrifying restraints. Jewel came home, ran away again, and was immediately returned to the Nevada facility. Yet her parents felt strongly that residential care was not the solution. "It was difficult for her to be away, and for us to have her gone," explains Bonnie. "Plus, we knew that the longer she spent with other troubled kids, the more she would absorb their problems.
"Then the family learned of the Wraparound services of EMQ FamiliesFirst. The family specialist helped Jewel learn to express her feelings. Gradually, she made new choices. "I dumped most of the friends who weren't good for me and made new ones who were." Still, Jewel had grave relapses, including a drug-induced psychosis for which she was hospitalized. Those hallucinations, she relates shakily, "were like nothing I can explain - I don't ever want to be back there."
Today Jewel attends recovery meetings and has been clean for more than six months. Jewel has graduated from high school and works two jobs. She is planning for college and a career as a social worker, probation officer or detective. "If Wraparound hadn't been there, I don't think I'd be where I am," she says, "off drugs, off the street, having my diploma. It is so good to know you are not alone." Her mom says: "Now I'm just thankful that Wraparound was there to play a role that parents sometimes can't."
Maria's Story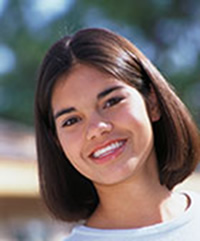 "Why was I the one who had to leave?" Severe diabetes manifested in the 8th grade, along with asthma and high blood pressure. Her mother, a schizophrenic and drug addict, was unable to supervise her diet or ensure regular insulin injections. In fact, mother and daughter smoked pot and drank alcohol together, and several of Maria's comas were alcohol-induced. In fact, it's a miracle that Maria survived the 13 times she has been hospitalized in a diabetic coma. At 13, in the grip of a Goth stage, she was admitted to a psychiatric hospital. By 15 Children's Services placed her in foster care, where Maria had difficulty managing her diabetes.
Scar tissue prevented proper insulin uptake, and her foster parents failed to supervise her doses. Maria lapsed into seizures, was hospitalized and removed from their custody. Maria was sent to the San Mateo Children's Shelter. "I was depressed," she says, "because I knew I would be bouncing around and I wouldn't get the school credits I needed." Despite her crises, she has aced English and physics. After a temporary placement in East Palo Alto, she was sent to the San Jose Children's Shelter, where she fell in with the wrong crowd. Maria continued to visit her mother and began seeing her father.
At her next foster home, the family prevented Maria from calling her parents and required her to join in sweat lodge ceremonies her diabetes couldn't tolerate. She begged for a transfer. After stressful days in an emergency group home and the Children's Shelter, Maria ran away to her mother's; then, with warrants out for her arrest, she spent three months on the road. Once back in the Children's Shelter, Maria was connected with Wraparound and a family specialist who took her to therapy and on recreational outings. "She became my friend for life," sighs Maria, "when she told me she was there just to listen." Maria began taking her insulin and staying in school. When she asked to live with her stepfather, Wraparound helped arrange it. Today she remains there - her eighth placement since being removed from home. She has quit drugs and alcohol and attends recovery meetings. Paying attention to her diet, she has lowered her blood sugar and appears strong and healthy. Maria reflects back with disbelief.
"I never in my life thought I would be in the system," she says. "Why was I the one who had to leave? The insulin made me feel like a human pincushion and the moving around made me feel like a human ball. There was no time to get used to one person." Maria is finishing high school with top grades and starting a secretarial job. She plans to attend a two-year cosmetology school, then go to college for a degree in criminology. "These are my plans," says Maria firmly, "and I will stick to them."
Antonio's Story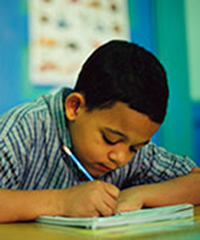 Antonio was on the road to kindergarten when his teacher became concerned that the four-year-old was frequently absent. First 5 and EMQ Families First have dramatically improved the life of one Santa Clara preschooler's family. At the meeting with Antonio's family, Acosta learned that he had three older brothers, ranging in age from 6 to 15. She also learned that the family was in crisis. The father was working two jobs to make ends meet, Antonio's oldest brother, Ernesto was battling leukemia, and the family had severe financial problems. Without a car at her disposal, the mom would load the children onto a bus for the two- to three-hour bus rides to Stanford to get medical treatment for Ernesto, meaning Antonio missed a lot of preschool.
Acosta learned that the family could apply for state Supplemental Security Income (SSI) benefits that would provide much-needed additional medical help for Ernesto and some financial support for the family. In a matter of a few months, the family learned that they had been approved, and immediately began seeing an improvement in their lives. Antonio and two of his brothers were able to keep up with their classes and stay on track for success.
The First 5 Family Partner continued to meet with the family on a weekly basis, and over a nine-month period, noticed that the mother went from being completely stressed by her family's situation to a "smiling mom." Acosta's support of the family continues and she reports that the family continues to do well, and Antonio now attends kindergarten regularly. The First 5 program helped Antonio and his family through a difficult period of crisis.

Hannah's Story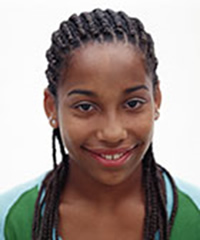 "At age 14, her loneliness finally ended." She found a family she would never have known if it weren't for the Family Finding program at Hollygrove, an EMQ FamiliesFirst agency. At birth, Hannah tested positive for drugs and was removed from her biological mother. Because she had been born drug-addicted, she had to suffer through withdrawal. She was briefly placed in foster homes and then with her maternal grandmother. When she was only six months old, her mother died - and she was left an orphan. Thankfully, her grandmother adopted her. While living with her grandmother meant Hannah didn't experience the frequent moves and instability that is common to kids in foster care, her time with her grandmother was lonely and isolated.
When Hannah was 13, a neighbor found her wandering when she should have been at school. The neighbor investigated and learned that Hannah's grandmother was sick and dying at home. Within a few days, the grandmother died without any plans for Hannah. Hannah was now orphaned for a second time and put into foster care again. Through Hannah's maternal grandfather, her Family Finding team made contact with Hannah's maternal aunt and uncle who lived out of state. Photos and letters were exchanged, as well as a copy of Hannah's family tree. Hannah began to feel a family connection.
After a great deal of work and partnering with CASA, the court gave permission for Hannah to travel out of state to visit her family, accompanied by her CASA and Family Finding team. After just two days, Hannah announced that she did indeed want to come live with this family. Hannah beamed as she said, "I'm so happy here!" The family has quickly completed their home study and they have learned that they can, indeed, adopt Hannah. The final step was just completed, which means Hannah is now living permanently with her new, big extended family - just in time for the holidays.